Past Event
Imagine Repair: Exhibition & Performances at the Cathedral of St. John the Divine

Presented by The Zip Code Memory Project
For information & contacts please visit
https://zcmp.org/imagine-repair/
Exhibition Opening: April 23, 2022, 3-6 pm
Performances and Events: April 23, 2022, 6-8:30 pm
Exhibition On View: April 24 - May 15, 2022 
Monday – Saturday, 9:30am – 5 pm; Sunday, 12-5pm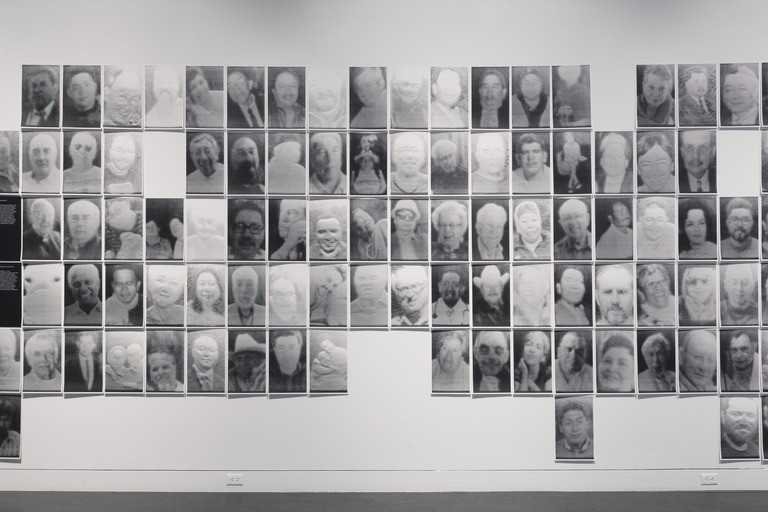 Join us to celebrate the power of community and care in neighborhoods unequally affected by the Covid-19 pandemic. Following several months of creative workshops engaging participants from across Upper N.Y.C. Zip Codes, the exhibition and performances express a collective desire for renewed hope, connection and transformative justice. 
Imagine Repair will be hosted in the Chapel of St. James at The Cathedral Church of Saint John the Divine. This anti-monumental exhibition includes projects produced by community participants in ongoing workshops; collaborative installations of neighborhood stories and voices; along with works by Kamal Badhey, Jordan Cruz, Maria José Contreras, Judith Helfand and Gabriela Canal, Chelsea Knight, Susan Meiselas, Lorie Novak, Desiree Rios, Carrie Mae Weems, and Deborah Willis. In collaboration with the Brooklyn Museum, a satellite installation of Rafael Lozano-Hemmer's  A Crack in the Hourglass, An Ongoing Memorial for the Victims of Covid-19 invites visitors to add portraits and stories about those they lost to the work's online archive at acrackinthehourglass.net.  
Opening events will take place in the Nave of the Cathedral and include performances and presentations by Alicia Grullon, Marie Howe, Fred Moten, Amyra Léon, Rev. Juan Carlos Ruiz, George Emilio Sanchez and Noni Carter with workshop participants, and a concert by Reverend Billy and the Stop Shopping Choir. Visitors will be invited to listen and share their wishes, hopes and demands.
The exhibition is curated by Iþýn Önol, in conversations with multiple workshop participants, and assisted by Aya Labanieh.  The public performances and events on April 23 are curated by Alo Gorozpe. Curatorial and artistic contributions by workshop participants include Birim Bademli, Erachie Brown, Cathleen Campbell, Yves Dossous, Leah Elimeliah, Yiðit Eygi, Sonja Jean Killebrew, Seçil Koman, Candance Leslie, Sandra Long, Zahied Tony Mohammed, and Jim Mutton.

Admission is free on April 23. After that date, visitors are encouraged to purchase timed $5 tickets in advance at  stjohndivine.org

Workshop Participants: Andres Fluffy Aguilar | Julie Panagiota Apostolou | Tomie Arai | Birim Bademli | Susanna Brock | Erachie Brown | Cathleen Campbell | Yves Dossous | Amy Fass | Mirta Feliciano | Alcira Forero-Pena | Maria de la Paz Galindo | Marilu Galvan | Marie Garcon | Sarah Gerth vd Berg | Robert Anthony Gibbons | Eileen Gillooly | Jose Hernandez Lozano | Eugene Jacobs | Temple Kemezis | Sonja Jean Killebrew | Secil Koman | Naomi Lawrence | Sheba Legend | Candance Leslie | Alena Lipatnikova | Sandra Long | Steven Lora | Nazia Malik | Andrea Mantsios | Robert McInnis | Deirdre McIntosh-Brown | Carl Medina | Benjamin Meyer | Zahied Tony Mohammed | Malgorzata Moore | Thomonique Moore | Jim Mutton | Marie Nazon | Scarlet Nunez | Dahiana Peña | Jasmine Perdomo | Ana Ofelia Rodriguez | Simone Salvo | Maday Sarmiento | Maria Sarmiento| Betsy Shevey | Benjamin Sinvany | Violeta Skevas | Nkem Stanley-Mbamelu | Mariana Tchen | Janessa Waiters | Ny Whitaker | Maria Liu Wong
Workshop Leaders: Kamal Badhey | Noni Carter | Maria José Contreras | Jordan Cruz | Carina del Valle Schorske | George Emilio Sanchez
ZCMP Team: Linda Aristondo | Luca Castro Figari | Leah Elimeliah | Jose Gabriel Figueroa Carle | Mia Florin-Sefton | Fadila Habchi | Kristin Hankins | Guilherme Meyer | Nancy Ko | Barbara Perez Curiel | Luis C Rincon Alba | Sylvia Riveros | Laura Salvatore 
Documentation: Gabriela Canal | Judith Helfand | Desiree Rios
Website & Graphic Design: Lex Taylor
ZCMP Project Manager: Lee Xie 
Exhibition Curator: Isin Önol
Exhibition Assistant: Aya Labanieh
Public Events Curator: Alo Gorozpe
ZCMP Co-Directors: Marianne Hirsch | Diana Taylor 
ZCMP Co-Organizers: Susan Meiselas | Lorie Novak | Laura Wexler

The Zip Code Memory Project is a Social Engagement Project that seeks to find community-based ways to memorialize the devastating losses resulting from the Coronavirus pandemic while also acknowledging its radically differential effects on Upper New York City neighborhoods. We are sponsored by Columbia University's Center for the Study of Social Difference with generous support from the Henry Luce Foundation. Additional funding from Columbia School of the Arts; The Society of Fellows and the Heyman Center for the Humanities; Institute for Religion and Public Life; Yale University Public Humanities; City College of New York Rifkind Center for the Humanities and the Arts; Public Humanities Initiative of GSAS and the Institute of Performing Arts, Tisch School of the Arts, NYU. Institute for Research in African American Studies at Columbia University,  African American & African Diaspora Studies Department at Columbia University.  Special thanks to the Cathedral of St. John the Divine.
Would you like to collaborate with us? Contribute to a Phone Booth for Anonymous Feelings – a project conceptualized and developed by Chelsea Knight with Sandra Long, Candance Leslie, and Zahied Tony Mohammed. We invite you to share a brief memory of significance to your COVID experience. Leave your 1-3 minute story as an anonymous phone message at 917-781-4612. The  public will be able to listen to a selection of anonymous memories during the Imagine Repair exhibition. The stories will also be hosted on our website.
www.zcmp.org
[email protected]
Follow us on social media @zipcodememory