Black Arts Dialogues
The Black Arts Dialogues (BAD) is curated by prize-winning author, New York Times Best-Seller and Oprah Winfrey Book Club novelist, Ayana Mathis. This program features a series of one-on-one conversations between Mathis and distinguished Black artists of various disciplines. From musicians to visual artists, filmmakers to fashion designers, actors to dancers, the Dialogues celebrate Black artists as thought leaders and culture makers who shape history, society, and aesthetics. BAD is a venue for artists to talk about their creative process, challenges, and goals, all within the larger context of Black art as a profound force in the US and around the world. The series will be accessible to audiences at Columbia and the public at large.
---
Upcoming Black Arts Dialogues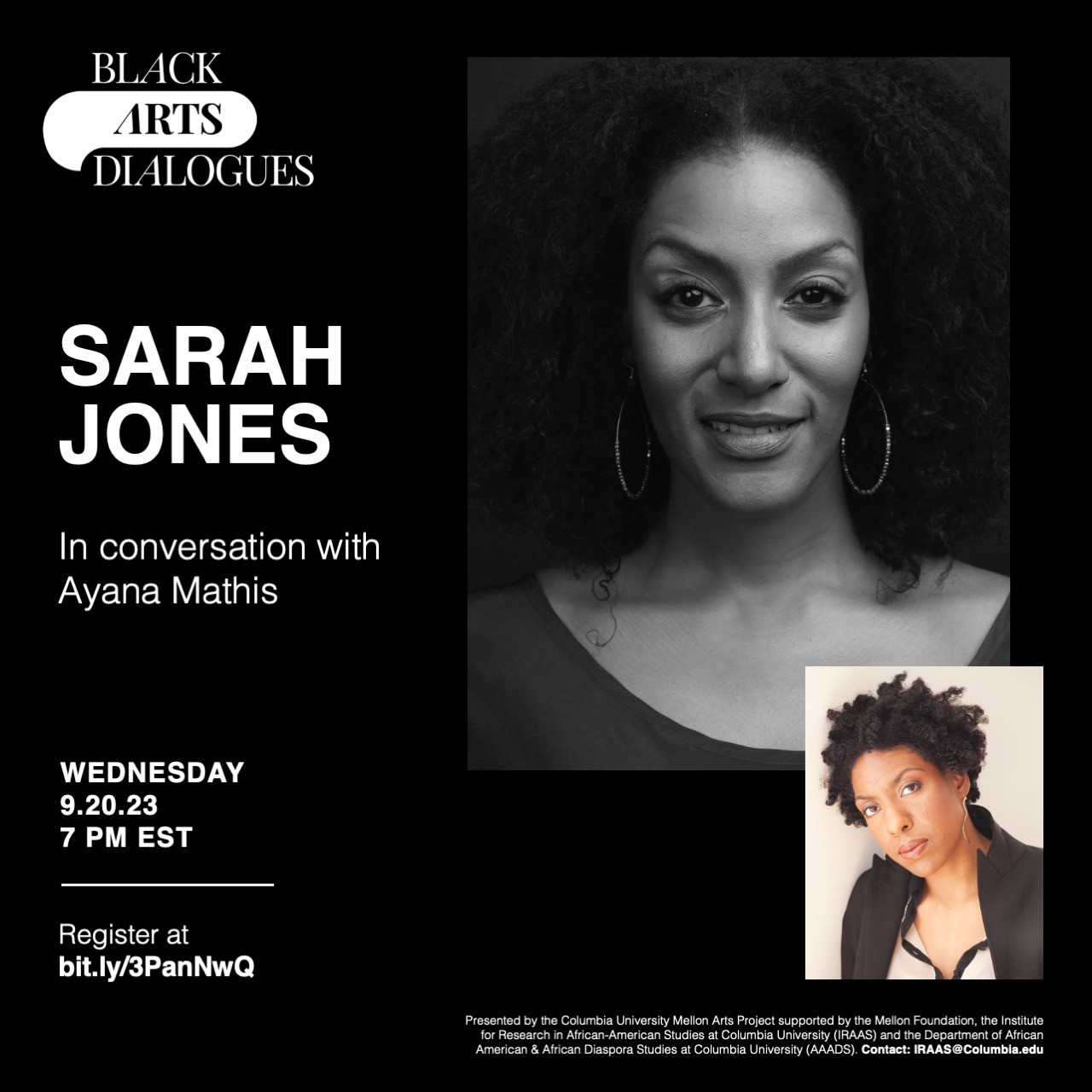 Sarah Jones Bio

Called "a master of the genre" by The New York Times, Sarah Jones is a Tony Award-winning solo performer, writer, comedian and activist. She recently made her debut as a film director with the hybrid documentary Sell/Buy/Date, in which she stars alongside the multicultural characters she's known for. The film, which is executive produced by Oscar-winner Meryl Streep, world premiered at the SXSW Film Festival, then made its theatrical debut in October 2022 and is now streaming widely.
Jones is mainly known for her multi-character one-person shows, including Broadway hit Bridge & Tunnel, also originally produced by Streep, and the critically-acclaimed play Sell/Buy/Date, which inspired the film. She has also appeared in various projects for the large and small screen, including co-starring (alongside with Elisabeth Shue, Giovanni Ribisi, and Julie Delpy) in the Netflix series On the Verge; Noah Baumbach's Oscar-nominated film Marriage Story opposite Scarlett Johansson, and on TV shows ranging from Sesame Street to Broad City. Renowned as "a one-woman global village," Jones has given multiple main-stage TED Talks garnering millions of views, performed for various events for President and First Lady Obama at the White House, and given a performance at The World Economic Forum in Davos, Switzerland as the first artist on its stage normally reserved for heads of state. Jones has also been a UNICEF Goodwill Ambassador, raising awareness of gender, ethnic, racial, and economic injustice in the United States and globally.
The daughter of two physicians, Jones was educated at The United Nations School and Bryn Mawr College, which contributed to her becoming a vocal advocate for women and girls, especially those from marginalized communities. Early in her career, Jones' work included theatrical runs and commissions from institutions such as The Kennedy Center, Lincoln Center, The NoVo Foundation, Berkeley Repertory Theater, The Market Theater in South Africa, and numerous theaters in Europe and Asia, all following her beginnings in slam poetry at the Nuyorican Poets Cafe in New York, and a battle with the FCC over censorship of her poem/song "Your Revolution."
Most recently, Jones launched Foment Productions, a social justice-focused entertainment company aligned with her progressive activism, with Sell/Buy/Date as its first production. The film tackles the intersection of race, gender justice, the economy, and various other issues through the unexpected lens of the sex industry. Using humor, investigative interviews, celebrity cameos (including Rosario Dawson, Ilana Glazer, and Bryan Cranston) and her own personal story, the film highlights how this topic is closer and more relevant to all of our lives than we may realize.
---
Past Black Arts Dialogues
Delroy Lindo Bio

Over the course of the past three decades, Delroy Lindo, a British-born actor with Jamaican roots, has established himself as a versatile figure in film, television, and theater. Lindo recently starred in Spike Lee's Da 5 Bloods, which earned him a New York Film Critics Award for Best Actor, and The Harder They Fall for Netflix. His upcoming projects include a leading role in Neil Gaiman's limited series Anansi Boys for Amazon as well as the feature Blade for Marvel Studios.

Throughout his career, Lindo has had memorable film roles in The Cider House Rules; Heist; Ransom; Get Shorty and previously garnered acclaim for a trio of films with Spike Lee: Clockers; Crooklyn and Malcolm X. On TV, Lindo starred on CBS' The Good Fight as Adrian Boseman. He won a Peabody Award for Strange Justice and the NAACP Award for Law and Order: SVU. His incursions in Broadway have earned Lindo Drama Desk and Tony Award nominations, playing Herald Loomis in August Wilson and Joe Turner's Come and Gone. Further, his role as Walter Lee in A Raisin in the Sun also brought the actor a Helen Hayes Award Nomination/NAACP Image Award for Best Actor.

Delroy Lindo directed The Blue Door and Joe Turner's Come and Gone to critical acclaim at Berkeley Repertory Theater. Directing Medal of Honor Rag also earned him a Los Angeles Theater Weekly Award. His notable career achievements include an Honorary Doctorate in Arts and Humanities from Virginia Union University; a BFA degree (cum laude) from SF State University; and an MFA from NYU's Gallatin School.
Black Arts Dialogues(BAD ) Session II: Ayana Mathis in conversation with Dee Rees
Ayana Mathis received her MFA at the Iowa Writers' Workshop where she became the first African-American woman to hold the position of Assistant Professor of English and Creative Writing. Mathis's first novel, The Twelve Tribes of Hattie (Knopf, 2012), was a New York Times Bestseller, a 2013 New York Times Notable Book, NPR Best Book of 2013, and second selection for Oprah's Book Club 2.0 and was long listed for the Dublin Literary Award and nominated for Hurston/Wright  Foundation's Legacy Award. Her nonfiction has appeared in The New York Times, The Financial Times, Rolling Stone Magazine, The New York Times T Magazine and Guernica, among others.  She is the recipient of fellowships from the New York Public Library's Cullman Center, Civitella Ranieri Foundation, and Bogliasco Foundation. She is a 2020-2021 American Academy in Berlin Prize Fellow. Her second novel, A Violent Woman, is forthcoming with Knopf.